A Comprehensive Business Continuity Solution
Every healthcare organization needs a comprehensive business continuity plan. Relying on paper during unplanned outages from severe weather, software transitions, or network downtime is not a safe and secure option. With no access to patient records, schedules, documents, images, and notes, it's nearly impossible to run a clinic or health system. Even planned outages, upgrades, and conversions require access to a comprehensive patient record.
An efficient business continuity solution will save your healthcare organization from the lost revenue and damaged reputation caused by short-term EHR and health IT system outages.
Access Patient Charts during internet or network, EHR application, or main server down times

Remote access from mobile devices

Access data from multiple locations

Up-to-date data syncs every 15-30 minutes

Charge capture for hospital rounds

View scheduled & unscheduled patient data

View all documents & images

Audit logs of user access

Create custom forms to capture notes

View Clinical and Billing information
Keep Your Practice Running
Our CareFinity® EHR Downtime solution syncs a copy of pertinent patient clinical and financial data and schedules every 15 minutes ensuring accurate, up-to-date patient records and schedules are available anytime, whether your EHR is available or not.
Unlike some other PDF/Print based solutions on the market, CareFinity® EHR Downtime is a versatile application that brings the data to your fingertips with web views and allows you to document visit notes. Our browser-based application allows clinicians, schedulers, and administrative staff to securely access stored patient information from any device – including mobile devices – whenever and wherever they need it.
How CareFinity® EHR Downtime Works
Every 15 to 30 minutes, CareFinity® copies all changes made to patient data in your EHR to one or more "clone" servers. If the EHR is unavailable, users simply click on the CareFinity® icon from their desktop or mobile device, log in, and view their current appointment schedule or patient search screen.
Simply choose a patient from the schedule or search for the desired patient and CareFinity® will deliver all the Problems, Allergies, Medications, Visits, Labs, Orders, Documents, Images, Vitals and Clinical information you need.
Clinical Views
The patient dashboard provides a top level summary with detailed drill downs for Problems, Allergies, Medications, Visits, Labs, Orders, Documents, Images, Vitals, and more at your finger tips.
Patient Financials
The patient's financial summary is easily accessible with encounter details available at the click of a button.
Document Your Visits With CareFinity® EHR Downtime While the EHR Is Down
With CareFinity® EHR Downtime, you can document your visit in real time and the system will put the note back into the patient's chart in the EHR when it becomes available.
CareFinity® EHR Downtime for Groups with One Location
Patient data is copied from the EHR to CareFinity® every 15-30 minutes. CareFinity® copies can be located at your main site or hosted off-site at our data center. Users access patient information using the CareFinity® icon on their desktop, or through their mobile device. The application is always up and ready to use so you can continue to see patients with their entire chart history at your fingertips.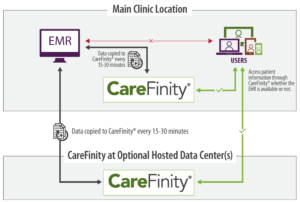 CareFinity® with EHR Downtime Remote Locations or Hosted EHR Application
CareFinity® EHR Downtime can be installed at select remote locations. If connection to the main EHR is lost, remote clinics can access their local CareFinity® copy. This configuration also works well for hosted EHRs. If your Internet connection to the EHR goes down, you can access your local CareFinity® copy and continue to see patients.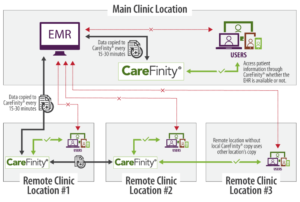 Multiple Ways to Secure Your Data with CareFinity®
Designed by Clinicians for Clinicians
Our EHR Downtime solution is intuitive, easy to learn, and works with all major EHR vendors. No in-depth training is necessary for clinicians. And for your IT team, the overhead on the system is minimal, so there are no performance issues to worry about.
Providers love our user-centric features, comprehensive Patient Dashboard™, search functionality, convenient click-to-call patient contact technology, views of the inbox and task lists, and easy-to-navigate design.
Flexible Configuration to Solve Your Unique Downtime Worries
Each clinic has its own downtime concerns. If your EHR is hosted by a third party, you may be concerned about your Internet connection. If your EHR is housed in your own data center, then hardware failure or natural disasters may worry you. If you have multiple locations, you may be worried about outages when your main EHR site is unreachable.
Our CareFinity® EHR Downtime solution can be configured to handle all these concerns and any others you may have. We will work with you to configure the best solution for your unique needs.
Perfect if you have one location
Real-time EHR backup synced every 15 minutes and stored at the main clinic, at another location, or hosted at one of our secure, HIPAA-compliant data centers

Remote access for other locations

Access via any smart device or desktop
Perfect if you have multiple locations
Real-time EHR backup synced every 15 minutes and stored on multiple servers that can be housed at one or more of your care delivery locations

Access via any smart device or desktop