EHR Application Hosting
eMedApps provides healthcare delivery organizations with EHR application hosting services to fit any on-site or off-site application and data management need. Your organization can utilize our secure, HIPAA-compliant data centers to run your software applications on our servers and access them via a secure Internet connection. We also offer managed hosting services where we maintain and manage your servers at your site or ours. The choice is yours. Whether you need hosting for all of your organization's applications and data or just for your EHR system, we have the solution to fit your needs.
Hosting Services Improve Cash Flow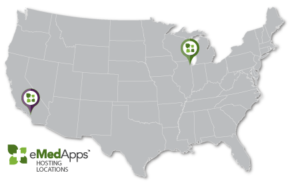 Traditional on-premises software deployments and medical data storage require higher operational investment. According to IDC, healthcare organizations that utilize on-site data storage spend 32% more on IT support than organizations that use an outside hosting service. From infrastructure costs of servers and support staff to deployment and ongoing maintenance costs, on-premises software is a high-touch model.
eMedApps reduces operating expenses allowing off-site management and web-enabled updates of your mission-critical health IT applications.
Prefer to have your hardware and servers on site? Not a problem with our managed on-site hosting. We provide end-to-end management of all hardware and software systems installed at your facility.
eMedApps Knows Healthcare
We understand the importance of delivering business-critical data and applications consistently, continually, and compliantly.
As your hosting partner, we have a much deeper understanding of your concerns as healthcare providers than the large, impersonal hosting providers on the market. "Big Box" IT hosting providers do not know healthcare and EHR. We realize the issues you face each day with your EHR and supporting systems. We understand how your providers use the system and the impact simple changes can make. We know your application and how it is used. We know the database and how it is put together. We know the issues with new releases and how to minimize them.
In short, we are better because we know what you do and how you do it and we make sure our hosting services align with your needs as healthcare providers.
Application Hosting for Any EHR Vendor
Our EHR application hosting services work with any major EHR vendor. Whether you need NextGen EHR hosting or your delivery organization utilizes another EHR platform, eMedApps has vendor-agnostic hosting solutions to fit your needs.
Leave the Maintenance to Us
Whether your servers are installed on-site or in our secure, HIPAA-compliant data centers, eMedApps will manage all of your software applications, including scheduled upkeep, maintenance, data backups, and more.
Let eMedApps handle the IT so your healthcare organization can focus on providing exceptional patient care.
24/7 Phone and Email Support

Blended Bandwidth for uninterrupted connectivity

Complete Infrastructure redundancy ensures no single point of failure

Fully Managed Redundant Firewalls

Intrusion Detection and Prevention Systems

Internal and External Vulnerability Scans

All backups are Encrypted

Data Replication to Geographically Separate Data Centers

Anti-Virus, Anti-Malware Protection

Business Associates Agreement