NextGen EHR Professional Services & Products
Making Your NextGen EHR Smarter, Faster, and Easier

eMedApps is one of the longest standing providers of certified NextGen EHR consulting services and products in the country. We help healthcare delivery organizations maintain their NextGen EHR for peak efficiency, facilitate seamless upgrades, and choose additional technology to enhance the EHR's capabilities.
Our EHR consultants are industry experts with vast NextGen-specific experience and knowledge that we use to connect your NextGen EHR with other health IT systems. We create an interoperable, compliant, and secure health IT landscape across your enterprise.
NextGen Expertise You Can Count On
Explore Our Suite of NextGen EHR Professional Services and Products
Certified Upgrades & Conversions

EHR & PM Implementation

Training

Go Live Support

EHR KBM & PM Customization

EHR & PM Workflow Audits

EHR & PM Support
Application Support Help Desk

Custom Reporting

Network and Hardware Support

Custom Template Development
Physical Chart Tracking System
The Power of a Connected Consulting Team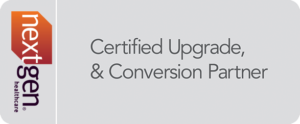 Why hire one part-time, in-house IT support resource when you can leverage the power of an entire team of NextGen certified EHR experts? Our team will either partner with your internal resources or become your dedicated staff to keep your systems running at peak efficiency.
As a NextGen EHR Certified Partner, our help desk is managed by a team of NextGen certified professionals. With offices in Boston, Chicago, Houston, and San Diego, our team offers ongoing optimization, maintenance, management, upgrades, and comprehensive support for your software, hardware, and networks.
Products Designed to Make Your NextGen System Smarter, Faster, and Easier
The following custom products are designed to work with your NextGen EHR and make your workflow easier to navigate.
Automatically apply Care Guidelines each night based on information in the patient chart.
The eMedApps Auto Faxing Solution allows you to truly automate your faxing workflow.
Our Accuvax interface sends immunization orders from NextGen to Accuvax. This eliminates the need to enter orders into both the EHR and the device. Errors in dispensing are also reduced as the order for the correct immunization is already in the device as the time of dispensing. updates are sent back to NextGen including manufacturer, lot numbers, Medication expiry date, and NDC information.
CareFinity, the EHR downtime and archive solution, has a new cousin, CareFinity Live Archive for NextGen EHR. CareFinity Live Archive allows organizations to remove clinical information from the live NextGen EHR system based on criteria that can be selected and maintained by the clinic.
Easily manage your incoming and outgoing CCDA's with our solution for NextGen Share.
Designed with the provider workflow in mind, users can create and set their own default test lists and select which three lists are displayed as their default.
Map ICD-10 codes with the relevant CPTII codes
We've made it easier for you to find things that have been overlooked, ensure visits are complete, and verify that the system is being used properly.
In NextGen today providers can create lists for medication favorites, My Phrases, and User Preferences but those lists cannot easily be shared from provider.
Provide customers with your best estimate for services
Easily manage and track orders
Enrollment Manager automates the steps for you, processing the enrollment files you receive, adding the new patients into NextGen Enterprise as appropriate, and tracking the outreach efforts and appointments.
How do you know if your providers' schedules are optimized for the most productivity? Do you have an easy way to view productivity statistics by location, or specialty, or by individual providers? Provider Productivity Analyzer may be exactly what you are looking for.
Helps providers plan their day, shows info on all patients for the day and items that need to be completed. Work Smarter.
Looking for a way to make adjustments if contracts were not yet in place, or providers were not yet credentialed? Batch Write Off lets you schedule and manage mass write offs that complete quickly, without human error, and allows employees to be more productive.
Complete the form below for more information about one of our NextGen Products and Services.