"I just wanted to take a moment to thank you all for refreshing my viewpoint for exemplary customer service. I thought the whole concept was a thing of the past. You guys are on the ball.  – Thank you"
"CareFinity is a very user-friendly tool for quickly accessing archived records. The set-up team has been great to work with."
"eMedApps provides innovative solutions to vastly improve the use of EHR technology and the end-user experience. The recent adoption of the Care Guidelines Tool allowed us to manage a process at a "system" level that had not been achievable in the past. eMedApps has been our partner over the past several years, helping us optimize our system's features and functionality."
"CareBridge is a powerful and flexible interface engine that can accommodate the growing needs of data interchange between our internal clinical information systems and our external business partners."
"One of our greatest challenges in the digital age of healthcare is to ensure the servers that run our EHR are encrypted, secured, and heavily protected from outside attacks. Since we chose eMedApps to host our servers, we have been worry free. I would recommend them to anyone."
"eMedApps has been absolutely crucial in the success of our department, our organization and our NextGen EMR in general. I feel like the eMedApps team is an ally in my role at San Ysidro, and I know that my leadership team feels the same."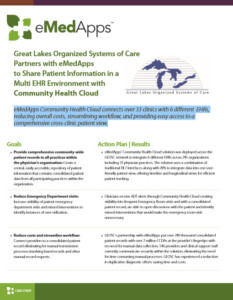 Great Lakes Organized Systems of Care Partners with eMedApps to Share Patient Information in a Multi EHR Environment with Community Health Cloud
eMedApps Community Health Cloud connects over 33 clinics with 6 different EHRs, reducing overall costs, streamlining workflow, and providing easy access to a comprehensive cross-clinic patient view.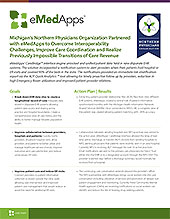 Michigan's Northern Physicians Organization Partnered with eMedApps to Overcome Interoperability Challenges, Improve Care Coordination and Realize Previously Impossible Transitions of Care Revenue
To unlock and unify patient data held in nine disparate EHR systems, Northern Physicians Organization (NPO) looked to eMedApps for help. The solution incorporates a notification service to alert providers when their patients have hospital or ER visits and provides an immediate risk stratification report via ADT Quick Analytics ™. The solution allows for timely proactive follow up by providers, reduces high Emergency Room utilization and improves patient-provider relations.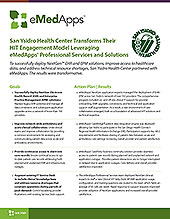 San Ysidro Health Center Transforms Their HIT Engagement Model Leveraging eMedApps' Professional Services and Solutions
To successfully deploy NextGen™ EHR and EPM solutions, improve access to healthcare data, and address technical resource shortages, San Ysidro Health Center partnered with eMedApps. The results were transformative.
Creating an efficient clinical workflow with Automatic Care Guidelines at Desert Ridge Family Physicians
Desert Ridge implemented eMedApps' Automatic Care Guidelines Solution to automatically applies care guidelines to the entire patient population.