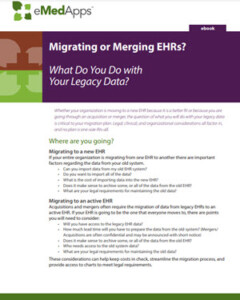 Migrating or Merging EHRs?
What Do You Do with Your Legacy Data?
Our latest eBook provides a closer look at the questions and decisions a healthcare organization should consider when merging or migrating EHR systems. With more and more healthcare groups joining forces and switching systems, this is a timely subject for discussion. We include the topics of archiving and converting data as well as many others that are crucial for your project.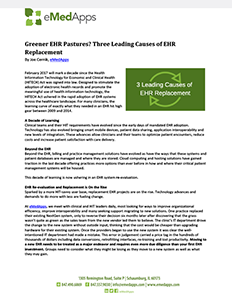 Greener EHR Pastures? Three Leading Causes of EHR Replacement
February 2017 will mark a decade since the Health Information Technology for Economic and Clinical Health (HITECH) Act was signed into law. A decade of learning is now ushering in an EHR system re-evaluation. This feature story highlights three leading reasons practices may be pulling the plug on their first EHR and considering a change.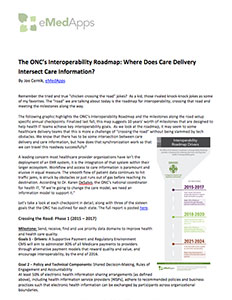 The ONC's Interoperability Roadmap: Where Does Care Delivery Intersect Care Information?
The smooth flow of patient data continues to hit traffic jams, is struck by obstacles or just runs out of gas before reaching its destination. The following feature story highlights the ONC's Interoperability Roadmap and the milestones along the road setup specific annual checkpoints.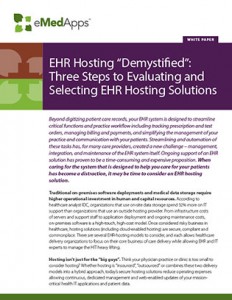 EHR Hosting Demystified: 3 Steps to Evaluating and Selecting an EHR Hosting Solution
For many clinics and group practices, the ongoing support of an EHR can be a time-consuming and expensive proposition. When caring for the system that is designed to help you care for your patients has become a distraction, it may be time to consider an EHR hosting solution. This white paper explores three EHR hosting approaches, the "pros and cons" of each, along with valuable tips on hosting contract terms and vendor selection.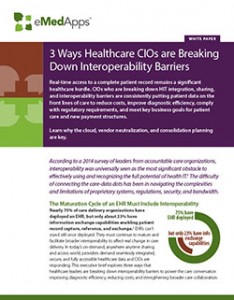 3 Ways Healthcare CIOs are Breaking Down Interoperability Barriers
Real-time access to a complete patient record remains a significant healthcare hurdle. CIOs who are breaking down HIT integration, sharing, and interoperability barriers are consistently putting patient data on the front lines of care to reduce costs, improve diagnostic efficiency, comply
with regulatory requirements, and meet key business goals for patient care and new payment structures. Learn why the cloud, vendor neutralization, and consolidation planning are key.